Specialties
Shoulder

Arthroscopic Rotator Cuff Repair Surgery
Shoulder Dislocations and Instability
Labral Repair Surgery
Shoulder Fractures
Clavicle Fractures

Knee

Meniscus Tears and Meniscal Repair
ACL Tears and ACL Surgery
Knee Replacement Surgery
Partial Knee Replacement Surgery
Quadriceps and Patellar Tendon Ruptures
Knee Ligament Injuries
Cartilage Injuries
Patella and Other Knee Fractures

Hip

Hip Arthroscopy for Labrum Tears
Hip Replacement Surgery

Elbow/Wrist

Biceps Tendon Ruptures
Tennis and Golfers Elbow
Fractures and Dislocations of the Elbow
Wrist/Forearm Fractures

Ankle

Fractures and Dislocations of the Ankle/Tibia
Achilles Tendon Ruptures
Hospital & Team Affiliations
Team physician, George Mason University
Team physician, Justice High School
Virginia Hospital Center
OrthoVirginia Operatory
McLean Tysons Orthopedic Surgery Center
SurgCenter of the Potomac
Awards
Voted Top Doctor by Northern Virginia Magazine 2014, 2015, 2016, 2017, 2018, 2019, 2020, 2021, 2022, 2023
Voted Top Doctor by Washingtonian Magazine 2017, 2018, 2019, 2020, 2021, 2022
Voted Top Doctor by Virginia Living Magazine 2018, 2020
Voted Best of Arlington by Arlington Magazine 2018, 2019, 2020, 2021, 2023
Bio
Dr. Anthony Avery specializes in sports-related injuries, shoulder and knee arthroscopy, adult and pediatric trauma and joint replacement, with an interest in minimally invasive procedures. He has been with OrthoVirginia since 2012 and he currently serves as the Orthopedic Trauma Program Director at Virginia Hospital Center. He provides medical expertise for local sports teams serving as the team Orthopedic Surgeon for George Mason University's 20 Division 1 teams and for Justice High School, and previously assisted with the D.C. United soccer club system.
Dr. Avery, a Northern Virginia native, received a BS in Chemistry from Villanova University and earned his medical degree from Georgetown University. He then completed five years of orthopedic surgery training including clinical training at Monmouth Medical Center, The Children's Hospital of Philadelphia and Morristown Memorial Hospital. Dr. Avery went on to Brown University to complete a fellowship in sports medicine and arthroscopy. During his residency and fellowship, Dr. Avery cared for the athletes at Brown University and also served as a physician for the American Hockey League's Providence Bruins.
Dr. Avery chose to specialize in orthopedic surgery because of the satisfaction he feels helping his patients recover from injury, regain mobility and return to the activities they enjoy. Playing a part in this very emotional and often life-changing experience is the most rewarding aspect of his work.
When Dr. Avery is not practicing orthopedic surgery, he loves spending time with his wife and two children as well as fishing, lacrosse and golf.
Education & Training
Warren Alpert Medical School at Brown University, Sports Medicine Fellowship
Monmouth Medical Center, Orthopedic Surgery Residency
Georgetown University, Medical Degree
Villanova University, Bachelor of Science
Certifications
Board Certified in Orthopedic Surgery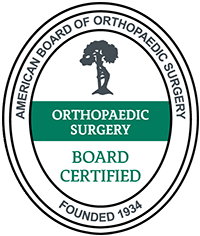 Get to Know Dr. Avery
Facebook Live: Preventing and Treating Rotator Cuff Injuries